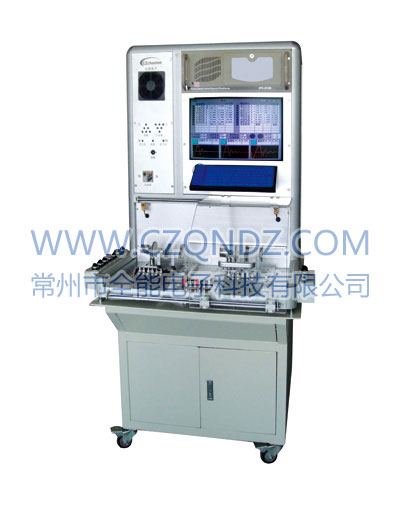 QMT-2A motor tester
This machine is applied to test steel casing motor such as pump, fan, air-condition motor, mower, paper shredder and refrigerator etc. Its LCD shows all technical data which obtained by industrial control computer, which check and verify the quality of testing stator.
Machine specification

No序号

Testing item测试项目

Testing Voltage测试电压

Testing range测试范围

Testing precision测试精度

Testing way测试方式

Verify way判别方法

1

electrical strength电气强度

AC100~5000V

0.5/1/2/5/10mA

±0.5%

Between coil and core线圈与铁芯之间

When testing value higher or lower than setting value is taken as reject, The software will give acousto-optic alarm accordingly.
当测试值高于或低于设定值时,判定为不良品,并由测试软件输出为声光报警。

2

Insulation resistance绝缘电阻

DC500V

10~500MΩ

±1.0%

Between coil and core线圈与铁芯之间

3

DC resistance直流电阻

1.8/18/180mA

0.01~1.999Ω

±0.5%

Between winding and winding绕组与绕组之间

4

Between turns insulation匝间绝缘

DC100~5000V

0~100

±1.0%

Test each winding respectively各绕组分别测试

5

No-load current空载电流

220V/50HZ
110V/60HZ
motor

0~2A~10A

±0.5%

Test each gear respectively每档位分别测试

6

No-load power空载功率

U*I*cosΦ

±0.5%

Test each gear respectively每档位分别测试

7

capacitance-voltage电容电压

0~600V

±0.5%

Between main phase and subsidiary phase主相与副相之间

8

locked current堵转电流

0~2A~20A

±1.0%

motor start data电机启动之数据

9

Brake time刹车时间

0~3s

±0.5%

motor cut static time电机断电静止时间

10

Motor rotating speed电机转速

0~6000rpm

±1.0%

optical fiber induction output光纤感应输出

11

PG test
PG测试

duty cycle, frequency, High level, ground level占空比、频率、高电平、地电平

±1.0%

PG outgoing line PG引出线

12

Ground resistance接地电阻

DC25A

1~600mΩ

±0.5%

between housing grounding line外壳与接地线之间

13

Leakage current泄露电流

0~250V

0.1~50mA

±0.5%

Between housing and main, high gear外壳与主、高档之间

14

Motor rotation电机转向

0~250V

CW, CCW or stop正转、反正或不转

Main phase and high gear主相与高档
(Testing item has some differences when the type is different)
Main feature:
1.All test items of electrical performance are done automatically at one time fast.
2.Each test items could be on or off randomly. Approval standard also could be set up randomly. The machine will give acousto-optic alarm for reject motor.
3.Auto statistics the quantity and qualified rate, reject motor statistics classification
4.Single station/double station can be chosen, with high utility and testing efficiency
5.Withstand Voltage and between turns voltage can adjust by manual or automatic.
6.System switch part use imported high voltage vacuum steel spring tube relay, withstand voltage 10000V,work test 100000000 times
7.Customer can do item programming automatically as per testing requirement.
8.It can save, edit, call kinds model stator and check data specification automatically.
9.Machine can add bar code scan function as per customer requirement, input bar code when checking, the testing data will show on the screen.