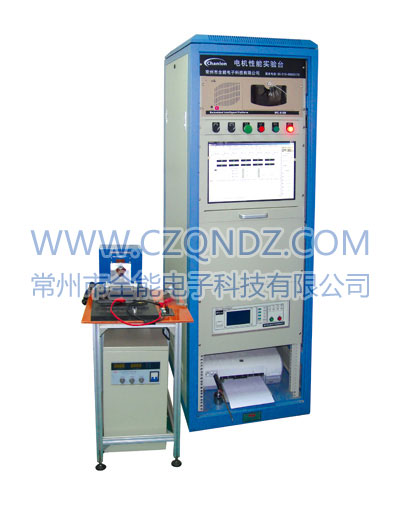 QME-2A motor performance tester
This tester is applied to type test of every kinds of single phase, three phases AC and DC motor. Its LCD shows all technical data which obtained by industrial control computer, printed out by printer in graphic and report (test items difference appear in the different types motor).
Test standard
1. Motor rotation speed test
Range: 0~30000 revolutions
2. Input voltage
AC motor: 0~250VAC
3 phases motor: 0~400VAC
DC motor: 0~310VDC
3. Input torque
Range: 0~200N.m
Select dynamometer as per different torque.
4. Input current
Range: 0~100A
5. Input power
Range: U*I*cosΦ
6. Power factor
Range: 0~1.00
7. Motor efficiency
Range: 0~100%
Main property
1) 5 windows display the rotation speed, torque, output efficiency at the same time. The last window indicates field current.
2) The field current of dynamometer adjustment could be done by rotary button of field current in front panel (say test motor loading)
3) It has interfaces to printer and computer.
4) Via RS-232 interface, receive voltage, current, power, power factor and frequency of electric testing instrument.
5) Adjustment in manual/automatic
6) Convenient operation, fast test
7) Voltage, current, power, power factor and frequency could be displayed in LED figures at the same time.
8) The measuring range of voltage and current could be free exchanged. Wide linear range, well repeated data read and stable performance.
9) Convenient lock ensures to measure data simultaneously and benefit for easy operation.
10) Computer could fix the torque and rpm of certain point, the machine could operate stably.